Q&A With HELU: Cable Management & Processing

When you are running a business, there is no shortage of things to manage: time, employees, productivity, and budgets… but have you ever thought of cable storage and processing, and why it is important to optimize your in-house logistics processes? Just about every business depends on cables for essentials like power and data transmission, and cable management is the perfect solution for keeping your product investment safe, functional and organized! The goal is to identify potential optimizations and design processes that can be adjusted quickly to operational changes to provide the best possible service to one's customers. Whether you are a distributor, end-user, contractor, integrator or OEM read on to find out how cable management can benefit your business from questions Regional Sales Manager John Lassandrello hears in the field.
Q: What are some areas where a cable management and processing system brings value to my business?
A: A few areas where a cable management system brings value are:
Safety – when you own or operate a business, it is up to you to keep the premises up to code and safe for employees and customers. Having a dedicated cable storage system prevents cable-related liabilities like tripping hazards by getting the cable up and off the floor and making it completely visible. Not only will this prevent tripping accidents around the workplace, but it will also keep valuable cables from being crushed underfoot by pedestrian and forklift traffic. Additionally, using a warehouse system that integrates winding and measuring equipment will eliminate injuries lifting heavy cable reels, which helps reduce unexpected personnel expenses.
Increased productivity – a company only functions efficiently with optimal internal logistics processes. The overall efficiency increases rapidly by eliminating several time-consuming logistics process steps such as moving unused reels to reach the target reel for processing. Quickly locating and loading cables into the processing equipment will reduce the time spent on each cutting task, allowing operators to perform more cuts during the work day.
Reduced Costs – a suitable cable management system ensures that ideal material flow is guaranteed to be cost-effective and in line with requirements. Cable racks enable operators to have a quick overview of stock levels. This ensures that high inventories do not tie up capital, and low inventories do not lead to fulfillment bottlenecks. Overall storage space is optimized because both floor and open-air space are utilized thereby allowing the facility's floor plan to be designed to maximize output.Cable management reduces the need for forklifts to access/transport reels meaning reduced scrap due to accidental damage. Additionally, precise measuring devices ensure accurate measurements and reduces lost cable that adds up over time because of built-in safety buffers and miscounts.
Q: What initial factors should I consider when deciding on a cable management system?
A: When beginning the preliminary analysis of whether to implement a cable management system, one must review the volume of reels as well as the various types used, the number of cuts to be made in a work cycle, the costs associated with the current handling and cutting methods as well as occupational costs caused by unnecessary labor that is not ergonomic. Understanding these points will allow you to decide the system that will integrate best into your current work processes. Once the overall system is determined, a more in-depth cost and benefit analysis can be conducted to provide more quantitative financial data that will support the investment in a cable management system.
Q: What are my options for cable storage systems?
A: There are a few different storage options. On the one hand, you have the option of either stationary (large, permanent racks) or mobile solutions (smaller storage racks that roll on locking casters). Customers must also choose whether they want to manually or machine unwind the cable. The options previously mentioned are directly tied to how the product is packaged i.e. spools, rings or reels. The size of these packaging methods also helps in deciding the best storage option. No matter the system you choose, the big advantage is that you always have quick access to the reels, spools or cable rings with minimal effort required to process when combining storage with direct unwinding.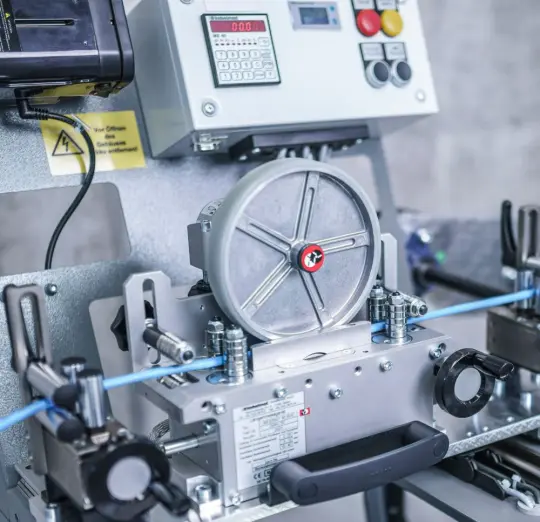 Precision measuring devices ensure that the correct length of cable is processed thereby reducing lost/scrap cable costs that add up over time because of built-in safety buffers and miscounts.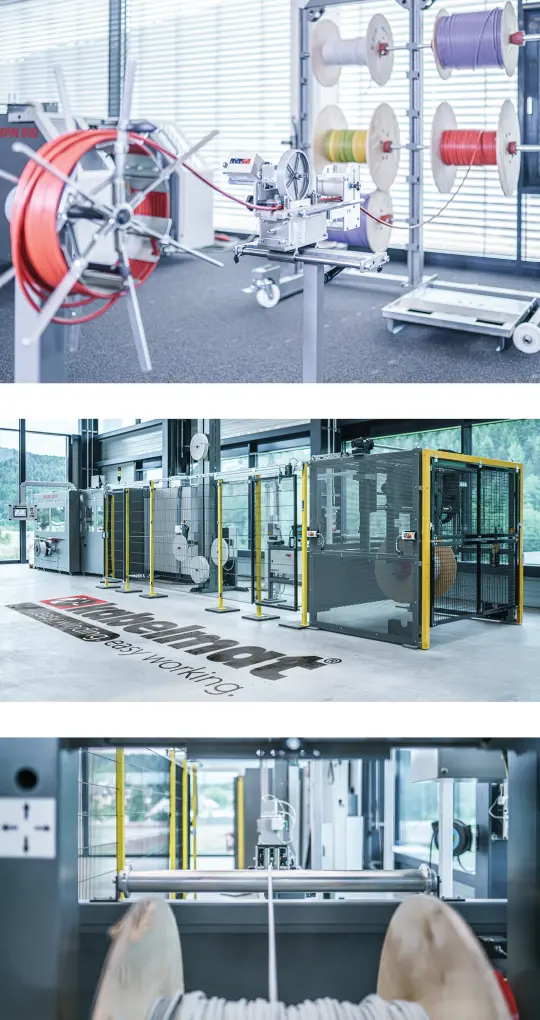 Cable management systems can range from portable storage racks with manual winding and cutting equipment to completely automated systems that reduce time-consuming tasks to increase overall daily output.
Q: What are my options for winding equipment?
A: When it comes to winding systems that are available one can choose from either a manual winding and cutting platform or an automated one. Manual processing machines are compact, handy and are permanently mobile for use in confined spaces. They are ideal for applications where cut volumes are low across multiple materials. Materials typically used with manual processing machines are typically lightweight because it can be exhausting if many rings are wound or if it is stiffer material that does not bend easily because you must wind it by a hand crank. Automated processing equipment ranges from the small and compact devices that are mobile, which allows them to be moved to the reels in the cable storage racks, to the larger stationary cutting stations. Automated processing is ideal when cut volumes and winding lengths are much higher. Since the machines are doing the work, the loads are limited to the strength of the machine so there is very little physical effort on the part of the user.
Q: In what market segments is a cable management system useful?
A: Storage and processing equipment is not limited to customers that consume cables and wires. Materials that also can be bulk stored, cut down and packaged include conduit, pipes, steel cables, rope, hoses and profiles, to name a few. Typical market segments:
Assembly Plants
Mechanical and Vehicle Engineering
Pipe and Hose Manufacturing
Electrical Engineering and Fabricators
Wire and Steel Industry
Construction
Wholesalers
DIY Markets
Back