Stacking and Securing Goods - One Pallet at a Time

Palletizing solutions are mission-critical components for end-of-line packaging operations at manufacturing plants around the world. They can range from lightweight – food, beverage, consumer packaged goods – to heavyweight, such as bulk goods like concrete bags. Some specific application examples include breweries, water filters, diapers and many more packaged items for retail or industrial use that require palletizing and/or shrink wrapping prior to shipment or warehouse storage.
Both conventional and robotic palletizer machines are ideal for automating the palletizing process to create stable product loads that are ready to ship. These machines often work in challenging conditions and, along with their components, must withstand rigorous environmental factors such as temperature, which can vary from cold storage (-20°C) to warehouse ambient (+38°C) conditions.
Palletizers can be classified as either single palletizers that stand alone or systems integrated, meaning they are integrated with existing conveyors and other material handling equipment to drive productivity and increase efficiency. Both styles typically include a robotic case-packer that creates a uniform and stable product load for the customer's unique package/carton configuration to be palletized. Having a robot requires cables rated for high torsion loads to withstand the 24/7 repetitive motions, while being guided and protected by application-specific dress packs. Vision systems then help determine the size and shape of the carton to intuitively determine the optimal best fit on the pallet.
Most importantly, they must comply with industry safety standards to protect equipment operators, maintenance technicians, and other personnel in the area. Some of the features included ensuring machine operator safety are controlled access doors, automatic safety latches on the hoists, and safety cages around the hazardous areas of the equipment. Sensors located in critical areas around the machine monitor and safeguard personnel. E-stops and emergency exit releases are available if a technician or operator is caught inside a hazardous area.
With a modular design, concurrent stretch wrapping, consistent precision, total flexible control, and reliable lasting performance, palletizers deliver safe and secure pallets every single time!
Recently one of the leading palletizing machine manufacturers in the US was experiencing a potential cable shortfall and shutting their production line down was not an option with order deadlines on the horizon. Having been a customer of HELUKABEL's since 2014, using such products asthe TOPGEBER® 512 PUR feedback cable, FIVENORM harmonized hook-up wire, and cable accessories, they knew that when a standard cable option wasn't suitable, we have the capabilities to custom manufacture cables to customer spec.
The customer required more than 5,000 feet of a special 120-ohm, unshielded, hybrid DeviceNet cable used as a flexible drop lead that connects to a special flat trunkline from AllenBradley.
The challenging part was that the cable needed to be delivered within 25 weeks, which was something that their current supplier was unable to meet. After discussing the application and the cable's requirements, the HELUKABEL sales and engineering team went to work on the feasibility of manufacturing this custom cable in the needed time frame. Due to HELUKABEL's custom cable manufacturing capabilities and proper material planning, HELUKABEL was able to intercut this custom DeviceNet cable seamlessly into the production schedule and was able to deliver the much-needed 5,000 feet of cable in 20-21 weeks.
Since we were able to deliver a quality custom cable ontime and at a competitive price, which the customer didn'tthink could be done by us or any other competitor, they followed up with an order for an additional 10,000 feet soon after receiving and inspecting/testing our cable solution. HELUKABEL's continued support has allowed us to gain spec position for this application in the future.
The palletizing machine manufacturer has been successful in the US market not only because their equipment is reliable, user-friendly, safe and energy-efficient, but also because their customer service balances speed, flexibility and dependability. These three traits are something that they look for in their supply chain partners as well. Since the HELUKABEL team was able to rise to the challenge and deliver ahead of schedule, this has opened the door to more opportunities since the customer was extremely impressed with our responsiveness, capabilities and product quality. We are now exploring opportunities with the palletizing machine manufacturer to supply servo and VFD motor, sensor and tray cable.
The future is bright for this partnership to grow and HELUKABEL looks forward to helping our customer continue to lead the way in palletizing technology.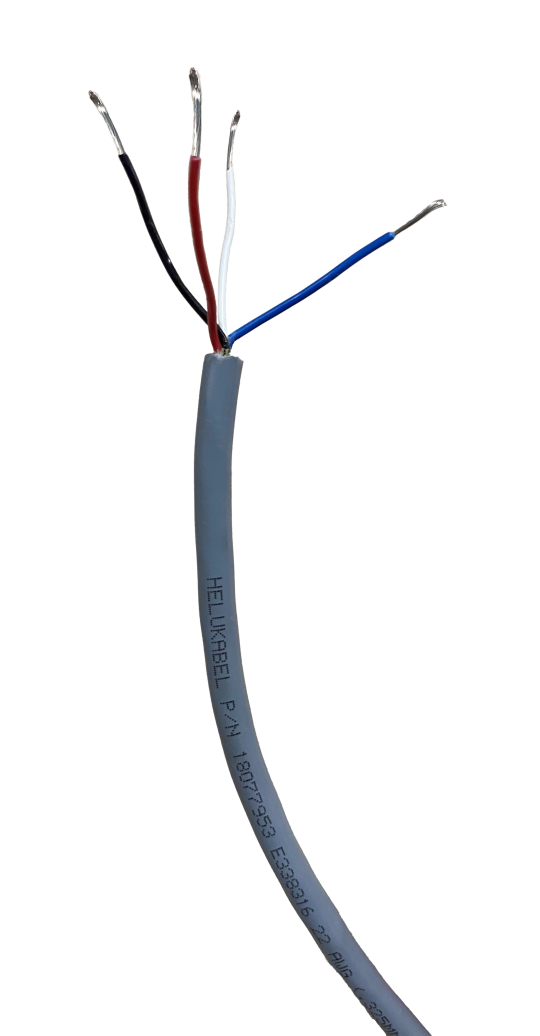 Typical DeviceNet cable has a shield as a part of the cable's construction, and combined with the short lead time, most other suppliers backed away from providing this custom solution, but not HELUKABEL. We were able to get design approval and delivered sooner than required.
Back