Industrial Cables Provide Innovative Manufacturing Technology Solutions

For over 30 years, P&R Industries has provided customers with the quality and personalized responsiveness that only a family-owned business can offer, from design and build to installation and support, and everything in between. P&R is helping turn their customers' manufacturing improvement ideas into reality.
They are a tight-knit company that strives to be the best in many distinct disciplines. Unlike larger companies, which are likely to spread the work process across multiple departments, their expert team works together daily to move projects forward on time, on budget and with the highest quality. They offer specialty solutions in areas such as test systems, integration, automation, fabrication, custom design/builds, CNC machining and leak testing.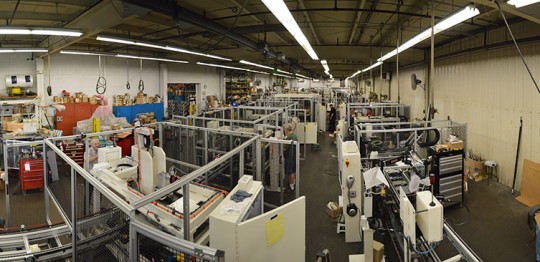 P&R Industries uses the latest technology, which allows their engineers to take customer projects from concept to reality. (Photo Credit: P&R Industries)
P&R Industries has a highly experienced automation team whose members help their clients by providing solutions in areas such as process improvement, product efficiencies, quality control, and ergonomic issues. They specialize in offering custom design/build solutions, gauges, prototyping and machine refurbishing.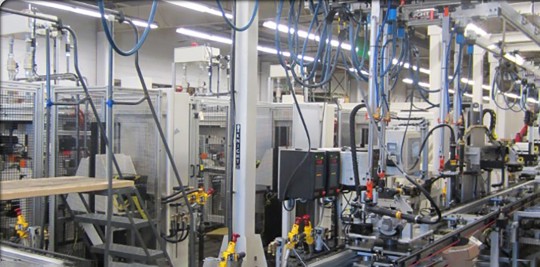 P&R Industries' team custom built an electronic power steering assembly line solution for a major automotive supplier. (Photo Credit: P&R Industries)
By keeping all aspects of the process in-house they have better control and turnaround times for their clients. Additionally, their ability to handle customer requests internally, without outsourcing, allows them to set themselves apart from larger, less agile companies.
They have several long-term customers who view P&R Industries as a true partner in their projects. They have offered excellent solutions when faced with challenges. Some of P&R Industries' customers have been with them for over 20 years, which speaks volumes about their quality and service. When customers come to P&R Industries with complex projects they expect and receive honest answers to help them achieve the goals at hand.
Their customers range from very large corporations to private business owners looking to buy and develop solutions for their manufacturing problems. They meet the challenge of any project customers bring our way. Whether the project is worth thousands of dollars or millions of dollars, P&R Industries provides the same service and professionalism to their customers.
When it comes to component suppliers, P&R Industries looks for similar traits in addition to products, price and deliverability. HELUKABEL has been a close and valuable partner to P&R Industries, which has allowed them to provide these significant improvements to their clients over the years.
Products That Are Easy to Install and Implement
P&R Industries' electricians prefer using our cables such as TRAYCONTROL® 500, TRAYCONTROL® 600, JZ-500 and TRONIC (LiYY) for their machine builds and installs because of their ease of installation. The jackets and insulations are clearly marked and identifiable, while also being easy to strip, which leads to a reliable and efficient installation. The cables lay nice and straight whether in a cable tray or other cable management system, due to their flexibility, which makes the exposed cable sections of the machine aesthetically pleasing, almost like a work of art when completed.
The Right Products
Whether the application is for control, power or communication, HELUKABEL's extensive product portfolio offers all the necessary global approvals to ensure the right products are used for each job. As manufacturing environment requirements can vary between industries, working with a cable provider that has a wide portfolio is ideal to P&R Industries. Whether the application requires stationary or highly flexible cable, large gauge or small, multiple conductors for control power, or multiple pairs for very precise and delicate signals, HELUKABEL has the perfect product to suit P&R Industries' needs.
Robust and Ruggedized
As today's manufacturing and technologies are rapidly advancing, P&R Industries needs to provide its customers with solutions that can meet these ever-changing harsh environments. In CNC environments alone, cables need to withstand cutting lubricants, oils and cleaning solutions while also requiring resistance to broad temperature ranges and abrasion or high flexing cycles. HELUKABEL's rigorous, real-world testing and manufacturing capabilities allow them to stay ahead of current market demands. By partnering with HELUKABEL, P&R Industries knows the cables they are installing can withstand even the most unique challenges placed on them by their customers.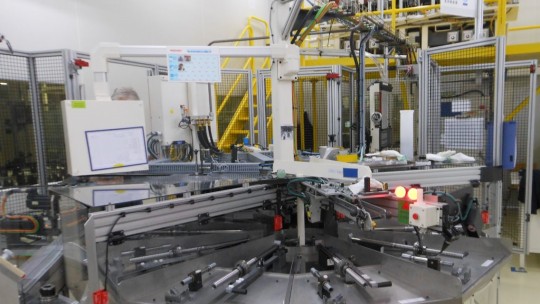 Ball Screw Assembly (Photo Credit: P&R Industries)
Highly Available
Supply chain challenges are the new normal, which is putting further restraints on the manufacturing industry. With more than 4,000 line items available domestically and over 33,000 parts globally, HELUKABEL's stock availability and superior logistics provide P&R Industries with readily available products for challenging constructions and installs, even under the tightest of deadlines, to keep machine builds on schedule.
The partnership between the two companies has allowed P&R Industries to focus on what they do best, and not where they are going to get their next order of cables from. With the ability to focus on the customer because they have a one-source, electrical system supplier at the ready, the outlook over the next 30-plus years is that much brighter!
For over 30 years, P&R Industries has provided customers with the quality and personal responsiveness that only a family-owned business can offer, from design to build to install to support—and everything in between. Whether you are a proven first-tier business or a startup with the next big idea, they have the talent and technology to ensure the success of your ambitions. For more information, visit pandrindustries.com.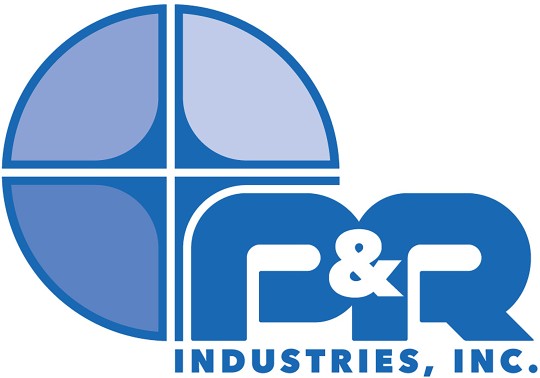 Back