CHEERS! SALUD! PROST!
Celebrating a great partnership with an international manufacturer of filling and packaging equipment!

The world is thirsty! To quench this thirst, bottle filling and packaging equipment companies around the world are making large investments in automated filling machines to increase their production speed. In addition to increasing overall output, these machines increase container filling reliability and consistency. It is one of the most exciting and fastest growing sectors in the food and beverage space. Every machine in the bottling facility requires electrical wire and cable to power and control the machine so it functions properly. Traditionally, beverage plants would install the wire utilizing rigid conduit. Steel conduit has been the standard but has often also included stainless steel. This type of installation began in the early 1900s and provided a reliable way to pull individual wires from machine to machine throughout each plant.
However, as the desire to move machinery around and install new production lines more rapidly has grown, cable trays and the use of tray-rated cable have continued to replace rigid conduit within the bottling plants. With the knowledge of these installation trends, a major bottling machine manufacturer and turnkey integrator approached HELUKABEL as they looked for a cable solution that would work with their cable tray system, which is used throughout the plants that they install their filling machine systems.
HAVING THE RIGHT PRODUCT
After consulting with our customer and understanding the scope of their turnkey installations, we recommended our TRAYCONTROL® family of cables. These Class K-stranded, control power cables are very flexible making installation easy compared to much stiffer Class B-stranded cables. Additionally, if the cable needs to exit the tray, TRAYCONTROL® cables are tray cable exposed run (TC-ER) rated to withstand environmental hazards.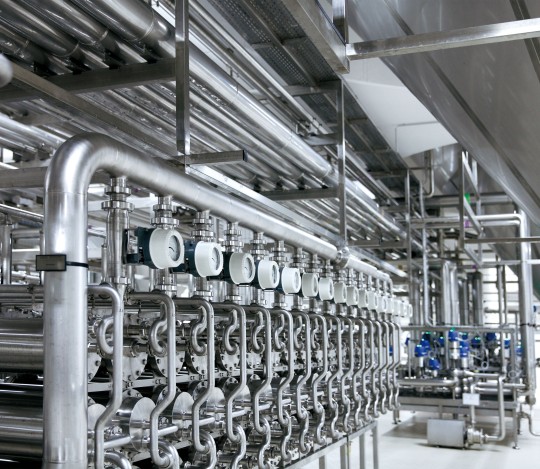 Bottling plants are looking at new methods to install cables to control the machines instead of running the cables through miles of pipe.
The main series that the machine manufacturer focused on was our TRAYCONTROL® 600, which offers an extensive range of sizes from AWG20 to 500 kcmil and provides up to 600/1000V of power. The broad temperature range (-40°C to +105°C) meant our customer could install the cables anywhere in the plant regardless of the ambient temperatures. In application areas where less than 600V was needed, but installation would still be within a tray, our TRAYCONTROL® 300 was ideal as it provided power limited tray cable exposed run (PLTC-ER) approval.
DELIVERING THE RIGHT PRODUCT...JUST IN TIME
Beyond the performance of our products, another advantage our customer found was our commitment to inventory and superior logistics. Before working with HELUKABEL they were forced to keep semi-trucks full of spools, which represented thousands of feet of cable, to act as a buffer when their other suppliers were unable to deliver. Working with them to determine usage levels, we committed to having inventory in our West Dundee, IL headquarters and further supported by our 1.85-million-square-foot facility in Germany.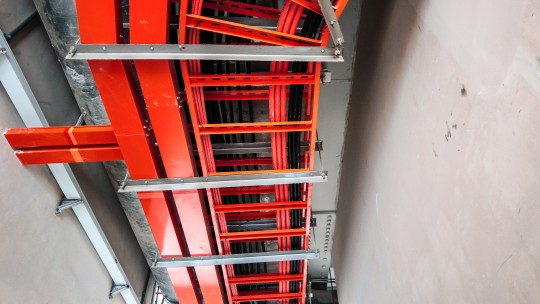 Installing cables in trays allows new bottling lines to be brought online and existing lines to be moved around much faster compared to ones thatuse rigid conduit.
In addition to having the stock they needed close by, which eliminated the need for extra cable to be stored in trucks, we also provided ancillary services such as re-spooling cable onto standard-sized reels. This made the customer's inventory management easier since they did not have to commit to warehousing months of inventory on their shelves. We also provided cut-to-length services when only a few additional feet were needed, which prevented having to purchase large reels and possibly incur scrap costs and lost revenue.
To complete the entire cabling system, we were also able to supply the necessary cable accessories such as cable glands, zip ties, lugs and labels. This is part of the value HELUKABEL strives to bring our customers to create a "one-stop-shop" experience.
Finally, having the ability to rapidly deliver cable and accessories is paramount, but it was our relentless commitment to logistics that strengthened the relationship with our customer. For large-scale projects, we were able to provide staging coordination and have each shipment arrive with customized tags and labels to direct the cable and accessories to the particular part of the plant where they were needed.
ARTICLE DOWNLOAD
Click here to view this article in our digital download center.
Back